I think half of what my child brings home from school goes in the trash. Sadly, I sift through the papers that are full of everything from a flier about the upcoming fundraiser, to a reading calendar, or local community ed. plays and classes. It's hard to want to go through any of it, and frankly, I view it as a big, fat chore. And, I only have one kid in school.
But, in sifting through the madness of different colored papers, I ran across one that actually mattered. And, something I'm so glad that my child's school is actually doing. I think every school should be doing this too. I was asked to make an emergency kit for my child in the case that she is at school during an emergency.
I love this idea.
The idea is for the teacher to keep a bag that she can grab quickly full of personalized emergency kits for each kid in her class created by the parents.
In the light of school shootings, tornadoes hitting a school, or any other natural disaster that we can't predict, I can't help but have a tiny twinge of fear every time I leave my kid at school. We all hug our kids a little tighter after Newton and that Tornado in Moore, Oklahoma breaks my heart. Thinking about those children sitting there, scared makes my stomach churn.
But, the school suggested one thing that tugged at my heart. A personalized note for your child to read, from you the parent to calm them in a time of crisis. I thought about that for a few days. What would I want to say to her if I wasn't there?
I remember the first time she was in Kindergarten and they had an earthquake drill. She had to sit under her desk while the alarm was going off. She told me later that day that she was really scared and was shaking during the drill. And that was just a drill! My heart broke just thinking about her being away from me.
So, in my note, of course I told her that we loved her and couldn't wait to see her when she got home. I told her to say a prayer. I told her to think of her cozy room at home and how she will be so happy when she gets to be in it again. I told her I couldn't wait to give her a big fat hug. I told her that her little brothers loved her too. You know, typical mom stuff. I stayed away from writing anything like, "Don't be scared." which is how I originally wanted to start my note.
The school suggested we put everything in a gallon size ziploc bag with the child's name on it. Here is what they suggest it include:
A personalized note from the parent
Juice box or other drink with a long shelf life
Small bag of snacks
Hard candy to suck on
Small paper and crayons to pass the time
Tissues or face wipes
Anything small that will bring the child comfort (like a picture of your family)
Medications and Instructions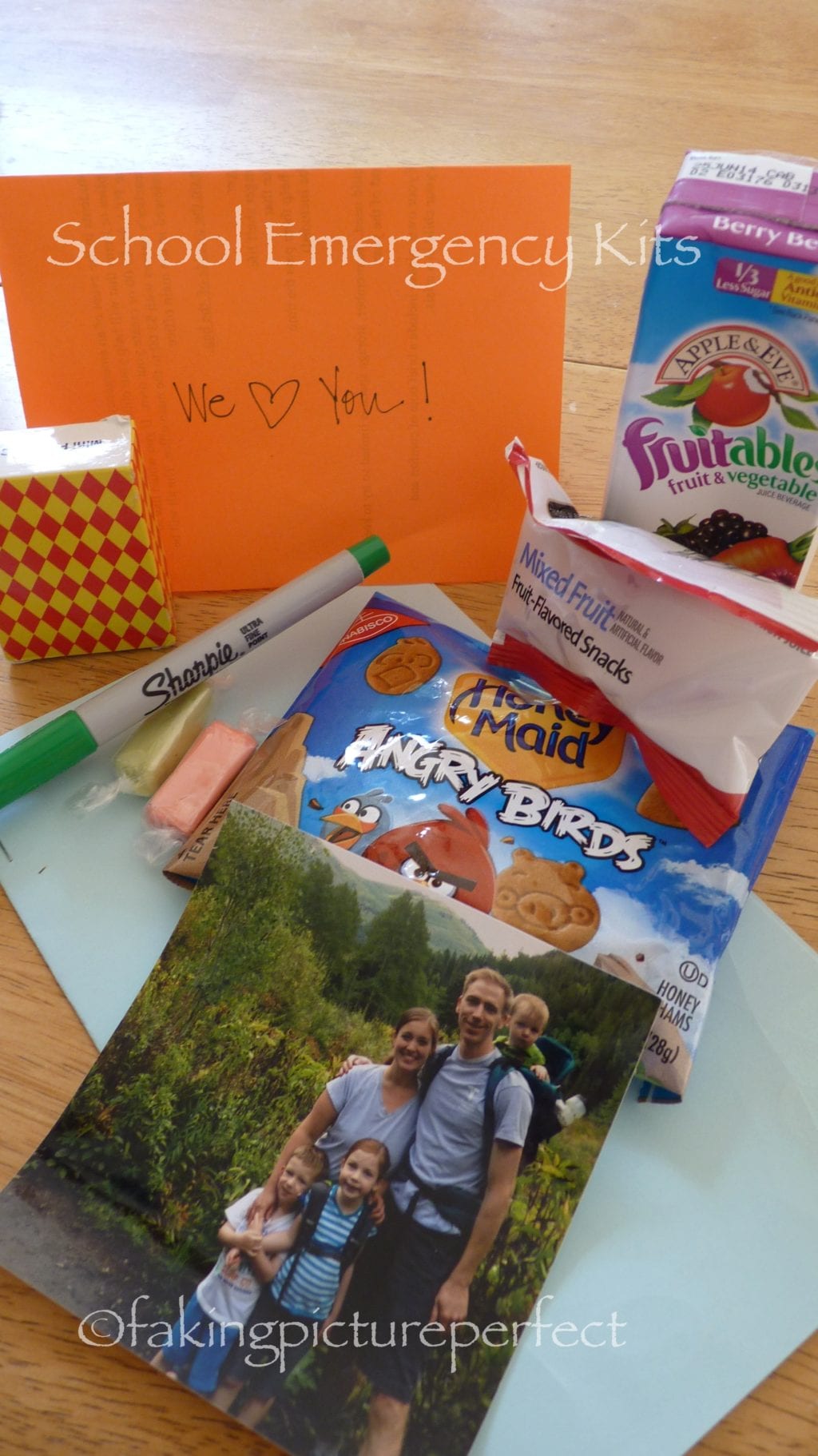 Who knows. Maybe if there is a true emergency, there won't be time for any of this, but I like to think that in the event that my child is "stuck" for any length of time at school, she has something to make her think of me, and the people she loves back at home.
If your school doesn't have a program like this, think about suggesting it! Maybe your suggestion will start a new safety tradition at your child's school. Or maybe you can create a kit just for your child to grab in the case of an emergency out of his/her own desk.