When I saw the blog hop over at The Waiting was about old school photos, well, I couldn't resist.
I had just finished putting the $20 into an envelope to send to school with my 2nd grader for her school pictures tomorrow. I hate forking over that money before I actually see the photo, but so far, we've been lucky. They've always been pretty cute. But, didn't our parents always think we looked pretty cute when sending us off to be photographed? Although, looking back on my old photos, I would swear that for some of those photos, my Mom forgot what day it was. And, if she didn't, well, then I don't know what to say.
But, it makes me wonder, will my kids think the same way about their awkward school photos one day?
I've been told all my life that I'm photogenic, but I'm not sure I would agree with that. But, as a baby, I was innocent and naive about the school pictures that were yet to come, and I was a cute baby. Don't you think?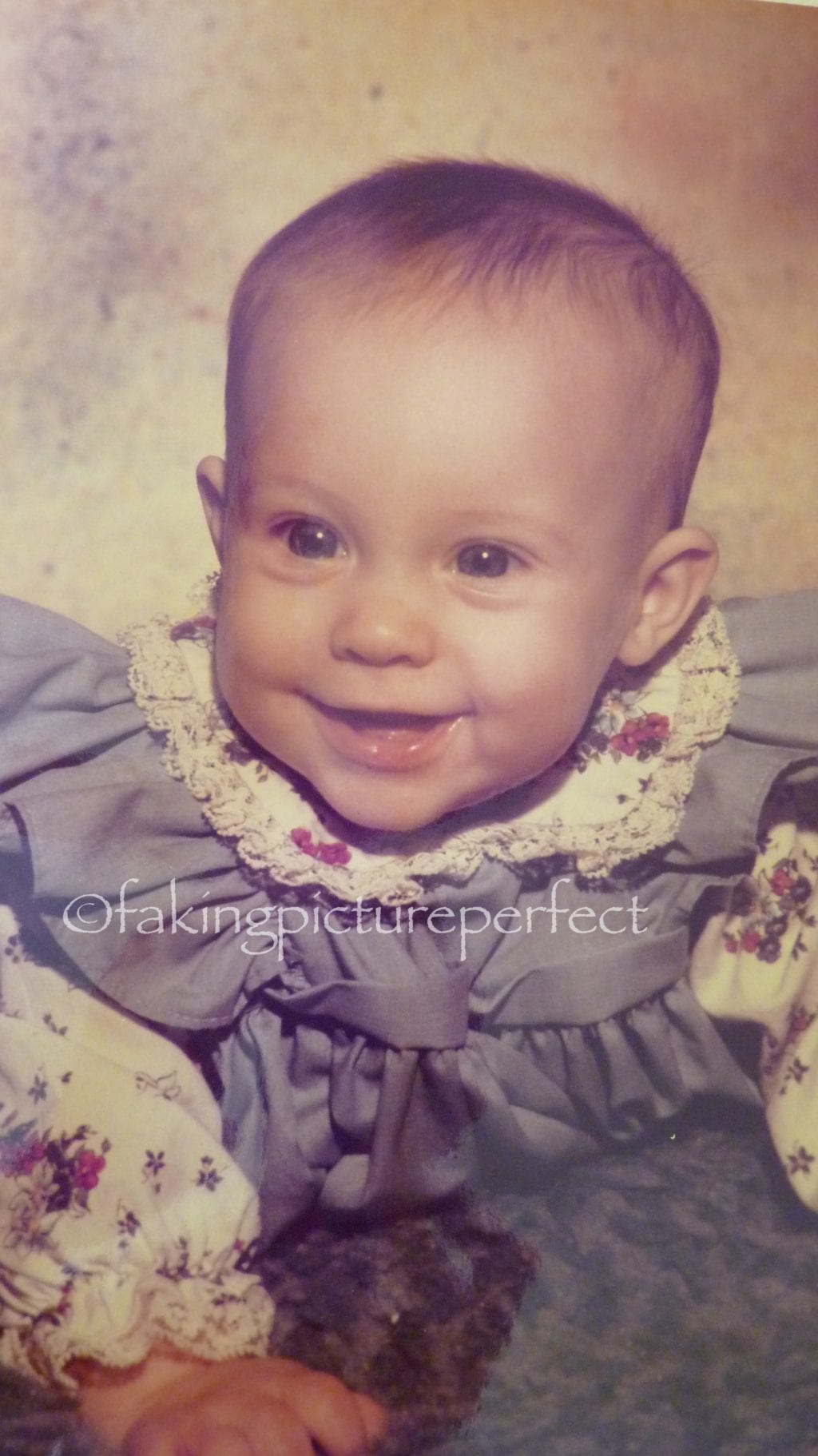 In Kindergarten, I took this class picture that has got to be one of my all time favs. Can you spot me? I'm the only one NOT looking at the camera. My guess is that I was dreaming about a life of perfect school pictures to come. Too bad my dreams did not become a reality.
But, it was 1984, to be exact when my childhood photo album takes a turn for the worst. It was the year my Mom chopped all my hair off. And, probably the same exact year that my sister and I started playing games that we would run away or get kidnapped. (Mom, I'm only kidding if you're reading this) Shh. I'm not kidding. And, right next to the ACTUAL hair that my mom saved for me in an envelope in my photo album (Yes. Yes I still have my hair from 1984) is this school picture: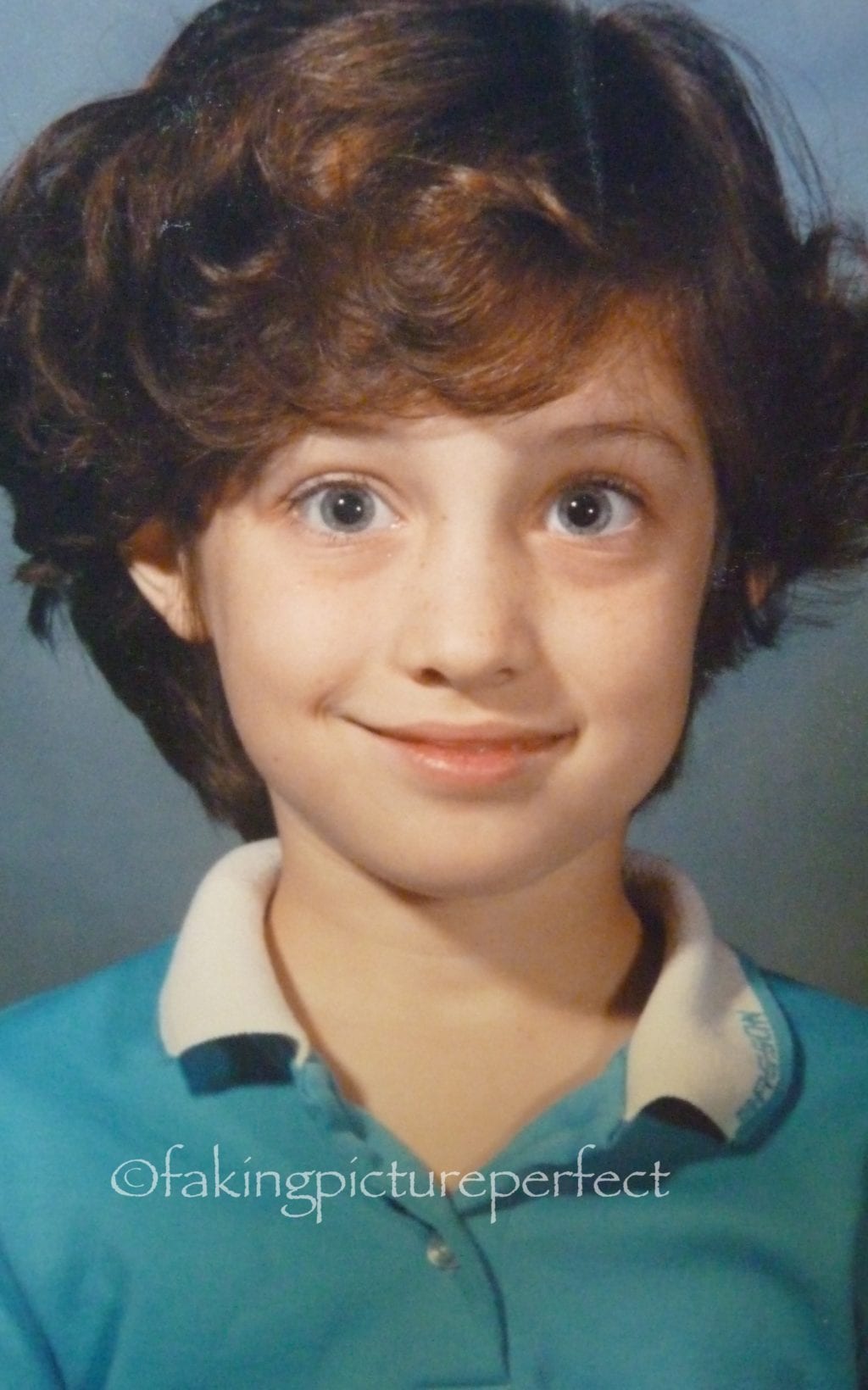 Let the forced smiles begin. This haircut is just too much. And, I believe that I knew it. And, I'm pretty sure I wasn't happy about it. The next two years were slightly better. My short hair-cut morphed into something more similar to Dorothy Hamill (ish) which I'm pretty sure is the look my Mom was going for. Or, she may have been punishing us for the shrill screaming and fighting we gave her every morning for daring to brush our hair. It's hard to say. But, this was the last time I ever wore my hair this short. Not a good look for me.
Then, there were the awkward middle school years. The perms, and the bangs that had to be carefully curled half up and half down but actually ended up in a ball of some sort on my forehead.
Remember when splatter paint and watermelons were in? I'm almost positive that this was not the cutest shirt in my closet since I'm pretty sure that I made this myself. Yet, here I am, trapped forever in time with a perm, and this shirt.
And, if you think it can't get any worse, believe me, it can.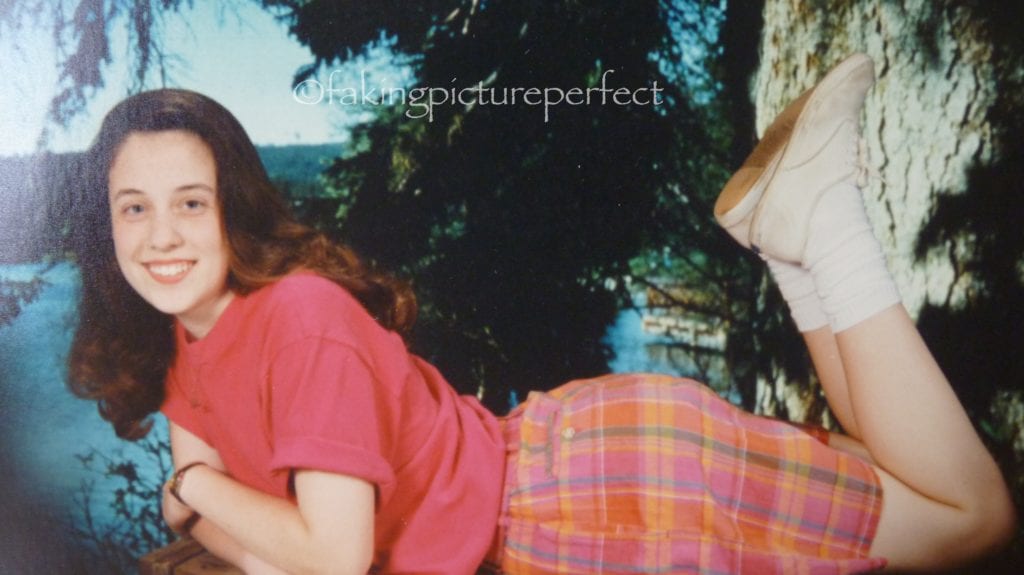 Where do I begin? Dirty keds, plaid shorts, or the fact that I was in 9th grade and still not wearing make-up?? And, the background?? I guess I was supposed to be vacationing at my lakeside property. Now, this photo was technically NOT taken at school, which makes it even worse. This means that my parents were witness to this atrocity, and participated in it. There are just no words.
That is until I took matters into my own hands and decided to have a photo taken with a friend. In a studio.
It was Texas, OK? Big hair was required.
Then, high school came about, and there were the awkward group photos.
Wearing pantyhose with shorts was a thing, y'all. And there I am front row, far right sitting on my date's knee. He is now married to the girl next to him. My best friend. Not awkward, at all that I went on a date with her husband once upon a time.
Need I go on? The point is, my pictures are proof that our parents aren't always to blame. I wanted that photo shoot in front of the lakeside property backdrop, and I thought I looked good. And, I willingly took photos at studios with best friends, and group pictures at dances. I have no regrets.
Kidding. I do. A lot of them.